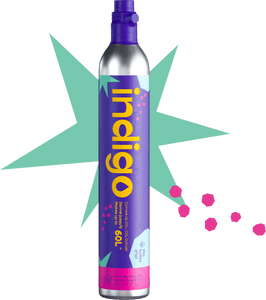 Indigo Soda Cylinder Refill
Regular price $12.50 Sale
Make flat water sparkle and buy or refill your CO2 Canister at a better price! At $12.50 for a refill and $15 for the canister deposit, this price is 35% cheaper than popular competitors - and it's a Canadian company. 
A $15 deposit for the Canister will be applied at checkout for every unit you purchase. This deposit is fully refundable at Indigo exchange locations across Canada. 
This 60L canister produces 60L of carbonated water on average. 
Bring your empty cylinder (from Indigo, SodaStream, Aarke, Drinkmate etc.) to exchange for a new full one or refunded for $15. Indigo is compatible with all systems using a 0.6L cylinder (all that have a TR21-4 valve traditional twist top). Return your cylinder to any shop that sells Indigo Soda.