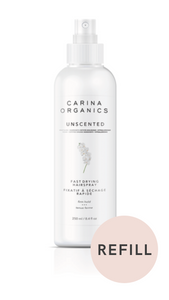 Hair Spray - Carina Organics
sold pre-packed in $2 glass deposit jar

Fast drying unscented hairspray. Best if transferred to a spritzer container from our deposit jars.

supplier packaging: 20L plastic pail that are cleaned, sanitized and re-used in-store. 
available sizes: small (approx 270ml), medium (approx 500ml), large (approx 1L)

vegan, cruelty free, gmo-free, gluten free
brand: Carina Organics
ingredients: 
Ethanol (ethyl alcohol), Acacia senegal (gum) extract, Pinus banksiana (pine) extract, Matricaria chamomilla (chamomile) flower extract, Urtica dioca (nettle) leaf extract, Taraxacum officinale (dandelion) leaf extract, Trifolium pratense (clover) flower extract, Olea europaea (olive) fruit oil, Cucurbita pepo (pumpkin) seed oil.