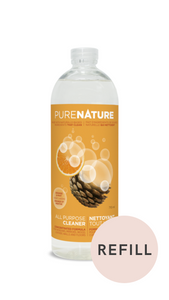 Multi-Surface Cleaner
sold pre-packed in $2 glass deposit jar

vegan, cruelty free
Effective for cleaning windows, mirror, wood, leather, walls, flours and all surfaces requiring a neutral pH. Disinfects surfaces with pine oil and essential oils of orange and mint. 
How to use: dilute 125ml in 8L of lukewarm water for heavy cleaning (kitchen and bathroom). For surfaces in contact with food, rinse the cleaned surface well with potable water. Dilute 10ml (2 cap fulls) in 710ml water, pour into reusable bottle and use on windows, mirrors and other surfaces. For best results with stains, spray directly on the stain, wet with water and wait a few minutes. Rinse with a Samp cloth. For laundry, apply on the stain and wash as usual. Do not use on wool or silk. 
supplier packaging: 20L plastic buckets that are cleaned, sanitized and refilled by supplier or re-used by bare market. 
available sizes: small (approx 270ml), medium (approx 500ml), large (approx 1L)
ingredients: Aqua, Sodium laureth sulfate, Decyl glucoside, Glycerin, Sweet orange oil, Pinus Sylvestris Leaf Oil (Pine oil), Glycereth-2 cocoate, Laureth-9, Xanthan gum, Sodium citrate, Citric acid, Benzisothiazolinone, essential oils.
*** Keep out of reach of children. Avoid contact with eyes. Keep from freezing.***