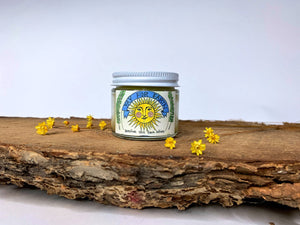 Yay for Earth Sensitive Face Lotion
Regular price $47.00 Sale
not vegan. cruelty free. handmade.
An everyday face moisturizer that can be applied anytime to balance, calm, & hydrate the skin - and give your face a glow! This is an oil moisturizer and not a cream or chemical base so you only need a VERY little bit for it to yield full benefits!
This is a face lotion but is also multi-purpose and due to its anti-inflammatory, anti-microbial, and nourishing properties, it has also been used to calm rashes, irritations and burns, to remove make up, to alleviate eczema & acne flare ups, hydrate dry to severely dry skin, fade hyperpigmentation, to balance oily skin, dry, cracked spots for your pets etc.
available sizes: 2oz or 4oz, packaged in reusable jars.
ingredients: organic olive oil, organic shea butter, beeswax, organic pomegranate seed oil