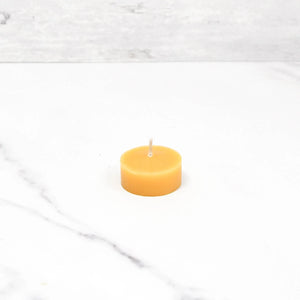 Tealight Beeswax Candle Refill
Tealights are famous for their versatility, affordability, and convenience - great for setting a relaxing mood around the bathtub, a romantic atmosphere in the bedroom, or even as a back-up light in an emergency kit.
Tealights made of 100% pure beeswax are even more impressive, with a longer burn time that is smoke-free, a warm natural glow and a pleasant honey aroma that will delight your senses. These tealights are environmentally-friendly, handmade with all natural and toxin-free ingredients.
They are designed to fully liquify, and must be burned in a cup. Re-using an aluminum, plastic or Clear Glass Tealight Cups is the most economical and environmentally friendly way to purchase tealights.
Candle Size: 3/4" h x 1 1/2" d
Burn Time: 4-5 Hours
These wicks contain absolutely no lead or other metals.