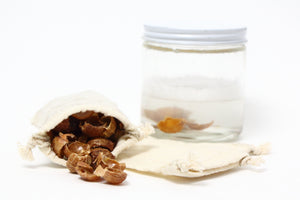 organic soap nuts
Our certified organic soap nuts are actually the dried FRUIT of the Ritha tree 🌴 They are a highly effective, gentle, scent free, and the only 100% natural and biodegradable option for your laundry. Perfect for your babe's cloth diapers too!
note: Rather than cutting down the Ritha tree for lumber, these soap nuts are harvested by small scale farmers in Nepal and sold to a Canadian company. There is, of course, risk to local communities with any product when it becomes commercialized. At bare market, we're always trying to make responsible purchasing decisions, taking into account the supply chain of each of our products before purchasing.
how to: place 4-5 soap nuts in a small cloth bag or a sock tied at the top. Then throw into the washing machine. You can reuse the same soap nuts 3-7 times until it becomes papery thin. Then compost!

You can also make a soap nut liquid by boiling the soap nuts in water and store in the fridge for 1-2 weeks, or even freeze it in an ice-cube tray. Use 1 cube per load. Put soap nut remains in the compost after use.

Soap nuts can also be used in the dishwasher, for body soap, window and glass cleaner, pet shampoo, cleaning jewellery and so much more!
*** this product is a cosmetic product and is not to be ingested ***