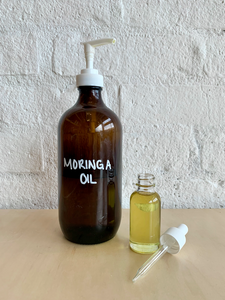 Moringa Oil
Regular price $7.50 $7.50 Sale
packaging options below.
Our Ecocert verified moringa carrier oil comes from India. It has been growing fast in popularity over the past few years as it reduces signs of aging while enhancing the skin's complexion. It is unrefined so can carry an aroma and can range in colour, from pale yellow to darker green. Moringa oil absorbs quickly into the skin, but still leaves a slightly shiny residue. It is perfect for massage, body and hair care products and perfumery.
packaging: This product comes in either a $3.50 30ml glass dropper bottle in either clear or frosted finish (non-returnable purchase, but is easily refillable) OR a $2 deposit jar (100% refundable, returnable in store or at time of delivery) in multiple sizes.
PS - Larger quantities are available for business needs at wholesale pricing, perfect for massage therapists or small scale body care brands. Email us at info@baremarket.ca for more information.
Virgin
Vegan
Kosher
GMO-free
Gluten Free
Cruelty Free
Cold-pressed
storage: keep in a cool, dark place. Refrigerate after opening when possible.  
shelf life: 1 year 
*** these are cosmetic products and are for external use only.***