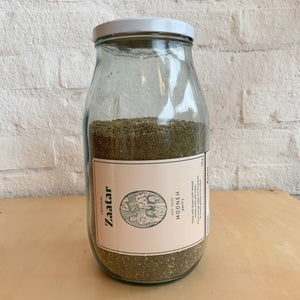 Mooneh's Zaatar
sold in 50g portions in a paper bag
Zaatar
(Arabic for Thyme) is also the name for various ancient Levantine blends of spices, herbs, blossoms, and seeds. Their Zaatar is a deliciously nutty and tangy blend of wild thyme seeds and sumac
Mediterranean wild thyme is their first ingredient and the largest in ratio. Zaatar is graded based on the amount of wild thyme it contains, the higher the amount the more premium the Zaatar is. They use the highest quality sumac made only from the hull of the sumac seeds, which contain the most potent aromas and flavours and a bit of salt, just enough to bring out the flavours of the main ingredients.
Try it as a rub for meats and fish; a seasoning for soups, salads, dips, and popcorn, or sprinkled on hummus or avocado toast! 

ingredients: Wild thyme, sesame seeds, sumac salt.
contains: Sesame