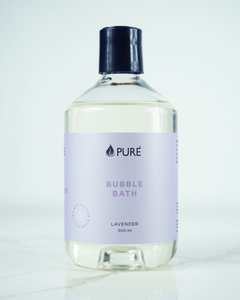 Lavender Liquid Bubble Bath - PURE
vegan. cruelty free. 
Ahhh alone time, relaxing with a few candles and a little music in a bubble bath. That is the dream. This product is made with essential oils that will help relax your body and mind.
Safe for babies and sensitive skin, as well as septic systems.

how to: 25ml (about 2tbsp) of bubble bath per tub. 
sizes: small (270ml), medium (500ml), or large (1000ml). Packed in a $2.00 deposit jar that will be added to your order once you add this product to your cart.
ingredients: Aqua, Sodium C14-16 olefin sulfonate, Sodium chloride, Glycerin plant, Lauryl glucoside, Lauryl hydroxysultaine, Citric acid, Ethylhexylglycerin, Lauramine oxide, Benzyl alcohol, Fragrance (containing at least 50% essential oils)
*** this is a cosmetic product and is for external use only***