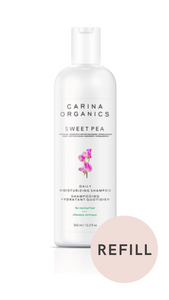 Sweet Pea Daily Moisturizing Shampoo - Carina Organics
Sold pre-packed in $2 glass deposit jar.

Vegan, GMO-Free, Cruelty Free, Gluten Free
supplier packaging: 20L plastic buckets that are cleaned, sanitized and re-used in house. 
available sizes: small (270ml), medium (500ml), large (1L)
ingredients: 
Filtered Aqua, Potassium Cocoate
(saponified Cocos nucifera / Coconut oil),
Glycerin (vegetable), Pinus banksiana (pine) extract, Magnesium Chloride (Magnesium Oil),
 Olea europaea (olive) fruit oil, Matricaria chamomilla (chamomile) flower extract, Urtica dioca (nettle) leaf extract, Taraxacum officinale (dandelion) leaf extract, Trifolium pretense (clover) flower extract, Acetic Acid (Apple Cider Vinegar), Lathyrus odoratus (sweet pea) flower extract.