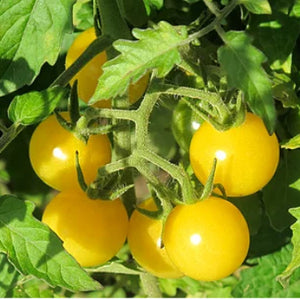 Coyote Cherry Tomato Seeds
Our seeds come from Matchbox Garden Seed Co. These are Certified Organic Heirloom seeds harvested on a small farm located in Southern Ontario.
Originally form Mexico, where it grows wild, this variety could almost be considered a currant tomato. Tiny yellow clusters of tomatoes cover plants that can grow as tall as 8 ft when trellised properly, allowing it to double as a focal point in your garden. One plant is more then enough for most home gardeners as you can never seem to pick all the ripe ones in time, there are SO many. The flavour of these fruit is delightful, almost like eating candy and favourite with the kids. Indeterminate.

Days to Maturity: 60 days
Seeds per pack: 25 seeds
Germination rate: 91%