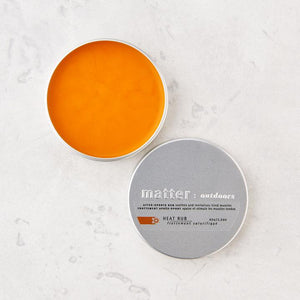 Heat Rub
Regular price $18.00 Sale
not vegan. cruelty free. handmade in Canada.
.
This heat rub by Matter Company soothes and revitalizes tired muscles and can be used as a relaxing massage ointment, after-sports rub, used on pressure points or as a chest rub. For athletes, hikers and anyone who likes it hot. 
how to use: apply to skin as needed and wash with soap and cold water if any irritation occurs. Avoid touching eyes or open wounds. 
supplier packaging: plastic bucket which is cleaned, sanitized, and sent back to be refilled by supplier.
available sizes: original packaging (42g metal tin) OR refill options packaged in $2 deposit jars (already included in price shown).

go bare. This product is also available in bulk in-store. Reuse the packaging and save some money when you come refill in person at bare market. 
ingredients: mustard oil, cayenne pepper, ginger root, mustard seeds, beeswax, eucalyptus, cayenne, camphor, peppermint, rosemary and thymol essential oils