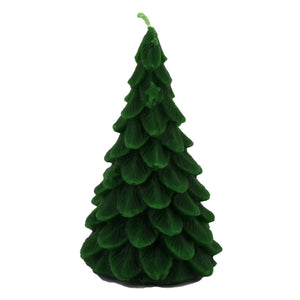 Yule Tree Beeswax Candle - Forest Green
Regular price $19.00 Sale
A one-of-a-kind candle in the shape of a festive yule tree, Honey Candles® Forest Green Yule Tree candle is handmade with 100% pure Canadian beeswax. It's the perfect holiday ornament and makes for a great gift!
Like all of our 100% pure beeswax candles, Honey Candles® Forest Green Yule Tree is eco-friendly and good for your health, with absolutely no carcinogens or hazardous products with wicks made from cotton. Beeswax candles have one of the longest burn times and a smoke-free burn that emits a soft honey aroma. The characteristic warm glow of a pure beeswax candle has a natural light that closely resembles that of the sun.
As ornamental candles are not symmetric top to bottom they may need a little more loving attention. If the melt-pool moves too close to the edge of the candle, trim the wick for a smaller flame.
Candle Size: 4 1/2" h  x 2  1/2" d
Burn Time: 12-14 Hours