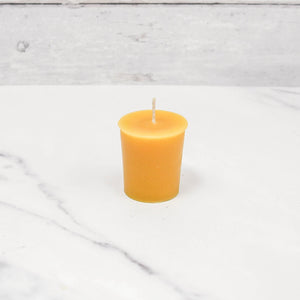 Beeswax Votive Candles
Regular price $25.00 Sale
These essential votives are made with 100% pure beeswax, gently infused with natural and healthy essential oils for a light home fragrance. Hand made in Canada using only safe and environmentally-friendly ingredients.  
Tip: Beeswax votives are unique in that they are designed to fully liquefy as they burn. That means they need to be lit in a cup (included in box).
Honey Candles® use only zinc and lead-free cotton or paper wicks, with no toxins or harmful ingredients. Handmade from 100% pure beeswax and dipped in the classical tradition of bee wax candles. 
Candle Size: 2" h x 1 1/2" d
Burn Time: 13-14 hours
Includes: 3 votive candles, 1 reusable glass cup
- - - - three options - - - -
mulled spice:
A gentle fusion of cinnamon, cloves, nutmeg + ginger essential oil soothes and adds warmth to any room.
rosemary + mint:
A blissful blend of essential oils from soothing rosemary and refreshing peppermint. Also works well as an air freshener.
Kootenay Forest:
Inspired by the pristine wilderness of the Kootenay Forest in British Columbia, this beeswax votive candle blends the soft scents of pine, fir and cedar essential oils.