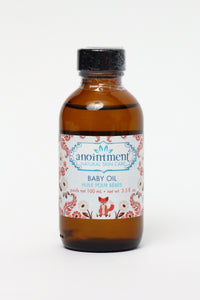 Baby Oil - 100ml
Regular price $11.00 Sale
A sweet smelling and moisturizing baby oil infused with organically grown chamomile and lavender flowers. Perfect for massaging baby after a bath or before bed to pamper the skin.
Other great uses for baby oil:
Makes a great eye makeup remover

Apply to baby's scalp to soften cradle cap

Use as a facial oil

Use as a moisturizing belly oil during pregnancy
go bare. This product is also available in bulk. Save the packaging and save some money when you come refill in person at bare market.
Ingredients: Olea Europaea Fruit Oil*, Helianthus Annuus Oil*, Calendula Officinalis Flower Extract*, Anthemis Nobilis Flower Extract*, Lavandula Angustifolia Flower Extract*, Lavandula Officinalis Oil, Tocopherol. *Certified Organic Ingredient
Size: 100 ml