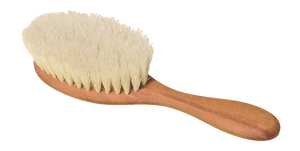 Baby Hairbrush
Regular price $20.00 Sale
A plastic-free baby hairbrush with the softest bristles in the world!
Is your babe 1 year or younger? This baby-safe hairbrush provides easy grooming for fine, wispy baby hair, while distributing natural oils and gently massaging sensitive scalps. The extra-soft goat hair bristles brush gently yet effectively, perfect for taming hair for infants up to 1 year old. The brush itself is handcrafted from oiled pearwood.
You won't want to once you feel it, but do your best to share with the baby it was intended for.
Size: 16 cm (6.5 inches)
Care: Do not immerse your brush totally in water. Clean bristles with a mild soap and lukewarm water solution. Towel blot to remove excess moisture and air dry. Using the comb and brush cleaner, you can effortlessly remove all of the hair from your brushes. Simply move the moistened brush cleaner back and forth between the individual rows. Dry with bristles facing down.