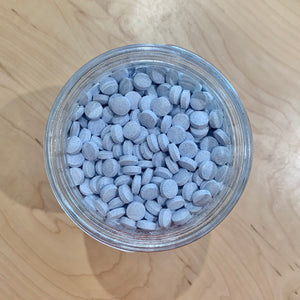 Mouthwash Tabs - Bulk
Yes, long-lasting freshness. Made from a blend of refreshing essential oils, our mouthwash tablets fight bad breath while at-home or on-the-go and balance your mouth's pH levels. 
Packaged in a paper bag. We recommend transferring to an airtight container once they get to you at home.
Original packaging (aluminum tin) available here. 
to use: chew tablet until it dissolves. Take a sip of water and swirl for thirty seconds then spit out.
ingredients: Xylitol (From Birch), Natural Mint Flavor, Sodium Bicarbonate (Baking Soda), Calcium Carbonate, Sodium Cocoyl Isethionate (From Coconut), Caesalpinia Spinosa Gum, Charcoal Powder*, Hydroxyapatite (Nano), Cellulose Gum, Cocamidopropyl Betaine (From Coconut), Zinc Citrate, Magnesium Stearate (Vegan)†, Hydrated Silica, Organic Mentha Piperita (Peppermint) Oil, Organic Mentha Arvensis (Menthol) Crystals, Organic Melaleuca Alternifolia (Tea Tree) Oil, Organic Cocos Nucifera (Coconut) Oil, Ammonium Glycyrrhizate (From Licorice Root), and Organic Aloe Barbadensis Leaf Juice.
- - - four options - - - 

12 tabs - great to sample! 
30 tabs - great for travel! 
70 tabs - 1 month supply!
124 tabs - 2 month supply!