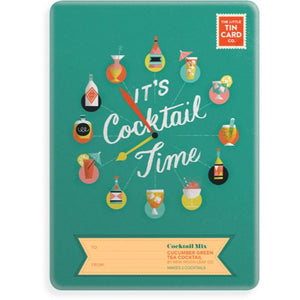 The Little Tin Card Co - Cucumber Green Tea Cocktail
Regular price $12.00 Sale
Well, It's Five O'Clock somewhere! This one-of-kind cocktail time greeting card makes gift-giving unique, fun and refreshing. The Cucumber Green Tea cocktail kit comes complete with a recipe card included to allow your recipient to mix their choice of ingredients to blend a thirst quenching cocktail. Made with organic tea leaves as the mix base, this is one of the purest and best tasting cocktail mixes around.

Every one of the tincards is a completely self-contained product. It's a card, gift, and envelope all in one. You don't need anything but a pen and a stamp.
The Little Tin Card Co is a proud partner with Canada Post. Their Little Tin Cards are Canada Post approved for mailing with a 200 gram postage stamp. Simply add 200 grams of postage, include your message and the mailing address and drop your tin card into the nearest Canada Post mailbox.