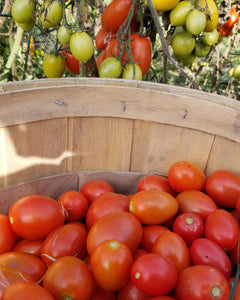 Paste Cousin Martina Tomato Seeds
Our seeds come from Matchbox Garden Seed Co. These are Certified Organic Heirloom seeds harvested on a small farm located in Southern Ontario.
Of Austrian heritage, this variety was gifted to Matchbox Garden 3 years ago by one of their customers. It was brought back from her family' farm and winery. A variety that has been passed down in their family for generations. The plant produces incredible amounts of 2 – 3" long, red paste tomatoes, all coming in over a 3 week period at the end of the season. Makes an excellent paste with it's low water content and thick walls. It also performs well when dehydrated or oven dried.

Days to Maturity: 90 days
Seeds per pack: 25 seeds